Property Development

Property development is our core business. Our primary focus is on niche property development mainly in the Klang Valley area. Other developments are in the Penang, Johor and Pahang states.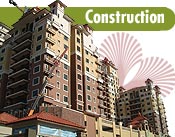 PJD Construction Sdn. Bhd. (PJDC) is the construction arm and a wholly-owned subsidiary of the Group. PJDC is a registered contractor with Pusat Khidmat Kontraktor (PKK) and Construction Industry Development Board (CIDB) with a "Class A" and "G7" classification respectively.




BUILDING MATERIALS

ACOTEC Sdn Bhd manufactures building materials and is a trading arm supplying commodities, pre-cast concrete and a complete range of finishes for construction.

Some of the major brands are Acotec, Acolia, Aco, Goldiden and Malta. The company is also accredited to MS ISO 9001:2000 and UKAS Quality Management System.

More information: www.acotec.com.my
Factories
ACOTEC Sdn Bhd is positioned to share the benefits of Acotec Wall Panel System with the Malaysian market. We have factories strategically located to supply the needs of project developments nationwide.



Taiping Factory in Perak
Region: Northern

Nilai Factory in Negeri Sembilan
Region: Central / Southern


International Users
Acotec Wall Panels are currently manufactured and applied in building construction projects in Germany, Japan, Korea, Taiwan, the Philippines, Thailand, Indonesia and Malaysia.



Product & Applications

Curing of Acotec Wall Panels

Acobuit System: Single Storey Units

System Formwork: High Rise Development

Frames

Doors